Who are you guys?
A born and bred Mancunian pair consisting of Sophie – a keen coffee drinker who loves arts, crafts and Dolly Parton – and John – avid Manchester music fan, chocoholic and football knowledge mastermind.
When they started dating John took Sophie to lots of gigs. In return Sophie tried to get John to some art events. He wasn't keen, believing the art world wasn't for people like him, without any formal art training or background knowledge of what he was 'supposed' to like. Sophie had her work cut out.
One evening (over a few beers) they chatted this through and realised there must be other people who felt like John. There was a gap, they concluded. A gap for an inclusive, unpretentious, high energy art event where everyone's opinion was equally valued…the concept for Art Battle Mcr was born!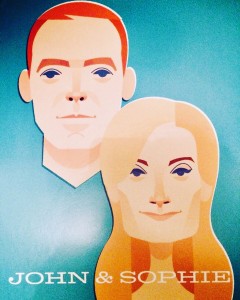 What on earth is Art Battle Manchester?
Established in 2013, Art Battle Mcr is a live competitive painting event. Imagine 10 fearless artists, 30 minutes on the clock and a circulating audience. The artists create their masterpiece in just 30 mins, you watch and vote. It's that simple. Well sort of. We also throw in some surprises…think fire breathers, skateboarders, live bands, a magical unicorn (yes, really)… and you're starting to get the gist.
Over the past 9 years 250+ artists have battled it out, with some getting such a buzz from the night that they proceeded to make the leap into becoming full time artists.
We keep the battle fresh by using a different venue each time, battling in iconic landmarks as well as forgotten spaces. We like to bring a few paint splats into venues you wouldn't necessarily associate with an art event.
In the same vain, its important to us that our events are not just for those with art training (like Sophie) but also for those who rarely visit galleries and haven't picked up a paintbrush since school (like John).
In the words of one of our artists: "Art for the people, by the people".